BEVERLY, MASSACHUSETTS — You discover a poisonous cobra in a classroom. Who you gonna call?
If you're one of hundreds of law enforcement agencies in the Northeast, the correct answer is probably Michael Ralbovsky. Since 1996, the herpetologist in Beverly has become a favorite resource for police departments confiscating dangerous creatures in New England and the Tri-State area for more than two decades.
It all started with the capture of 24-inch venomous snake discovered at a suburban-Boston elementary school. Word spread of Ralbovsky's skills and he's now a behind-the-scenes expert advising about 450 departments and agencies — as a free service. As a result, he's quietly bridged the disparate worlds of animal-rights advocacy and law enforcement, becoming a type of repo man for Mother Nature. But instead of a tow truck, Ralbovsky's work is done with a drive to save animals' lives while assisting in about 300 seizures per year.
Demand for his work is a testament to how exotic pet ownership endures despite the efforts of animal rights groups and lawmakers concerned with the effect on the ecosystem coupled with the treatment and dangers of keeping non-domesticated animals.
The relocation work also underscores the difficulty officials face after confiscations. Finding a home for a puppy or kitten is one thing; locating one for a bearded dragon is a whole other matter.
Ralbovsky, who estimates recovering about 900 animals during 2017 alone, capitalizes on the national contacts he's made during the last 30 years, said Gary Rogers, president of Nassau County, N.Y.'s Society for the Prevention of Cruelty to Animals.
"If I didn't have Mike — he's so respected by the law enforcement community — most of these animals would be euthanized," Rogers said. "He plays an important part up and down the East Coast."
Animal advocates have won major battles in recent years. For example, they put an end to the breeding of killer whales used in theme parks operated by Florida-based SeaWorld Entertainment Inc. and wild-animal circus acts.
The victories provided "momentum to national and global efforts to stop subjecting animals to lifelong captivity, coercive training techniques, and unceasing travel in box cars and cages," the Washington, D.C.-based Humane Society of the United States reported.
But a patchwork of state laws and makes it difficult to regulate and oversee ownership of wildlife. The Humane Society says there are now only four states with no, or an inadequate number of, laws restricting ownership of dangerous animals. Nineteen ban private ownership of exotic animals; 14 require owners of exotic wildlife to obtain a permit or license.
Americans with the financial means can acquire just about any type of wildlife they want and public officials are largely indifferent to the implications, Washington, D.C.-based Born Free USA CEO Prashant Khetan said.
"This is an industry that has kind of grown out of the market because people glamorize it," he said. "This is an open market and it can exist on an open level. Most states fall into the bucket that it's not a major problem for them."
Inconsistent state laws haven't helped the effort to defend animals, said DJ Schubert, wildlife biologist for the Washington, D.C.-based Animal Welfare Institute.
"As far as I'm concerned the amount of wildlife trade has increased exponentially," he said. "It's gotten worse. People want something different."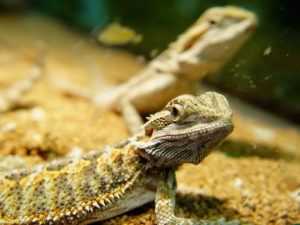 These are the dynamics at play and the conditions that make Ralbovsky so crucial to so many law enforcement officials.
Long Island, N.Y., has been the location for a disproportionate number of confiscations because of its proximity to Pennsylvania, which has less restrictive wildlife ownership laws. In mid-2016, Ralbovsky assisted in confiscating 130 turtles and 270 birds from a Bellmore, Long Island, home, the largest animal seizure in Nassau County history.
Complaints by Long Island residents are rising because they consider wildlife ownership to be a precursor to other crimes. Yet confiscated animals put officials in a bind because it can be expensive to relocate them, Rogers said.
"We just don't have the resources ourselves," he said. "Michael is the go-to guy; he's my first stop and works out where the animals will go, to get them to a safe environment."
COP CONNECTIONS
Joseph Chague, president of the Animal Control Officers Association of Massachusetts said the first thing his department in Pittsfield does when encountering wildlife is notify the state's Division of Fisheries and Wildlife, or MassWildlife, which would then contact Ralbovsky if warranted.
Agency officials consider whom to contact on a case-by-case basis. But if it involves a dangerous reptile, Ralbovsky is their favorite recovery expert mostly because he finds a way to relocate them, MassWildlife's Endangered Species Program Director Thomas French said.
Ralbovsky, 59, is no stereotypical pony-tailed, tree-hugging do-gooder. Clean cut and stocky, he typically wears a dark-green uniform evocative of a park ranger. He's soft spoken with a demeanor that turns very serious when discussing the proper treatment of wildlife.
"We don't ever, ever put an animal back in the public trade, ever never. It goes to a science center or a zoo," Ralbovsky told a visitor to his wood-paneled office gurgling with four aquariums. "…People don't like snakes, they don't like lizards, they don't like alligators. It's not a cute and cuddly animal."
In 2017, Ralbovsky and his wife, Joaney Gallagher, drove more than 30 hours to relocate 17 alligators to a zoological park in Beaumont, Texas. They also donate recovered animals to university science centers, sanctuaries and zoos. Some are kept at a facility that Ralbovsky and Gallagher oversee in Beverly, a scenic coastal city 27 miles north of Boston.
Ralbovsky's reputation as a wildlife repo man was sparked by a 1996 incident in Stoneham. He captured a poisonous, two-foot Egyptian cobra in an elementary school three months after owner and neighbor Anthony Ferrari reported it missing. Ferrari and the Alabama man who allegedly sold the snake were charged with violating federal wildlife protection laws, the Boston Globe reported at the time.
Three decades of dealing with such animals has enabled Ralbovsky to spot trends like a surge in demand for ball pythons and bearded dragons. He can put such information to good use when training 300-400 first responders each year.
"I have to have this on my belt all the time," Ralbovsky said touching his mobile phone. "I can't get away from it because of law enforcement. We're getting calls constantly on identification or whatever it might be.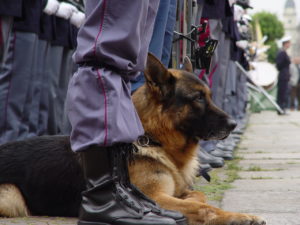 Ralbovsky's relocation work might seem unassailable, but Born Free USA prefers that recovered animals be released to a U.S. animal sanctuary regardless of the goal.
"We don't agree with keeping wild animals in captivity — even for education," Khetan said. "These animals are being used for entertainment and that's not something we approve of."
Back in Beverly, Ralbovsky and Gallagher operate a 3,200-square-foot animal sanctuary in an industrial park building that's kept low profile for security reasons.
Rescuing wildlife doesn't pay. The couple said they spend $40,000 a year just feeding creatures such as snakes, birds, turtles and tarantulas. They raise capital with a 25-year educational program called Rainforest Reptile Shows Inc. The charity provides seized animals with a second life in a traveling exhibit for children who benefit from wildlife that suddenly find themselves homeless.
"I don't want the animals killed," Ralbovsky said. "What will a PD [police department] do with a rattlesnake pulled out of a house in Long Island? … They don't know enough about the animal to realize that it has a place in this world also. People don't understand that."