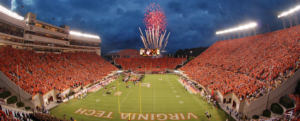 Two hours before the Rutgers University game, Virginia Tech equipment manager Lester Karlin hears it's cool outside. He knows what's coming. He begrudgingly pulls out a bundle of long-sleeve T-shirts. Karlin is certain some players, particularly the defensive backs, will want the shirts under their game jerseys instead of the customary sleeveless variety.
Ten minutes later, a player stands at the equipment room window and requests a long-sleeve shirt.
"All right," Karlin says, "give me your short one."
The player rolls his eyes as he trudges back across the hall to the locker room to retrieve his T-shirt. Players get one of everything, Karlin explains. If they want a replacement, they have to return the old one.
"Otherwise, they take the shirt home," he says disapprovingly.
They can't do that. The uniforms may have players names and numbers on them, but make no mistake – they're Karlin's.