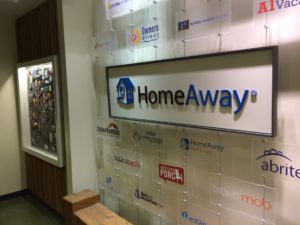 HomeAway Inc. executives and investors quickly capitalized on the company's initial public offering earlier this month.
The Austin-based company's top four executives cashed in, selling thousands of shares of HomeAway (Nasdaq: AWAY) stock for nearly $9 million less than a week after the $216 million IPO.
The company's major shareholders — like others in these cases — are bound by 180-day lock up agreements, meaning they're prohibited from selling their common stock for the first six months after the IPO. But several investors and executives were mandated by the IPO to redeem preferred stock, according to a U.S. Securities and Exchange Commission filing on July 5.
Austin Ventures — which owned 22 percent of the company, or about 18 million shares — generated more than $32 million selling Series A and Series B preferred stock.